Time for reading: 10 min.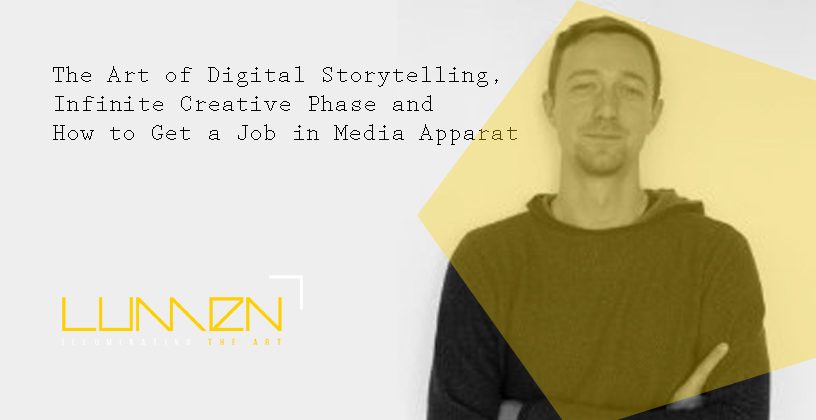 Andreas Göltl: The Art of Digital Storytelling, Infinite Creative Phase and How to Get a Job in Media Apparat
Lumen: To make a logical intro for our readers, let's define who you are and what you do, using firsthand information — directly from the source.
Andreas Göltl: I am Andi, I am the head of the company called Media Apparat, 13 people are currently working there. We are a concept and productions studio, specialized in setting multimedia appearances in scene and in content production for events, which also means 3d-mapping, but also interactive shows and sometimes also designing whole events. Additionally, we also produce motion graphics and focus on filming. My job at Media Apparat is to hold everything together and to manage some of the biggest projects. I don't design anymore.
MAPLAB- Laboratory / Visual Affairs from Media Apparat on Vimeo.
Lumen: Please, walk us through your career in the field of video mapping and event-production. How did you start? Was it your dream or just a fateful coincidence?
Andreas Göltl: At school I wasn't really good at painting with pencils in our art lessons, but we had an art teacher who was very open minded regarding the use of computer graphics. Therefore I focused on designing computer graphics in school. At that time Photoshop 4.0 was already out, but there were still a lot of limitations. My art teacher had a company called «Institut für Licht und Farbe». At the age of 17 at school I started working there. Over the years I became a designer and later a project manager.
But from the age of 24 VJing completely caught me… I started doing visuals, every weekend in a different club and festival and after two years was even booked internationally and travelled a lot. After some time I decided that I also wanted to try to organize some parties… In the next years I focused on organizing parties and festivals for electronic music in and around Vienna ― always with a strong focus on visual design and visuals.
But after eight years Igor – the founder of Media Apparat – asked me to join his team and I very quickly became the Manager of Media Apparat together with him. After being a part of Media Apparat for only seven months, Igor died in a tragic accident – which shocked us completely. But then it was up to us – his friends and the core team of Media Apparat – to save the company, which we did. And from that day I am the only Manager of Media Apparat.
Lumen: Is Media Apparat your core business? Tell us about the studio. How does the «network of creatives and labels» actually look and work like?
Andreas Göltl: Media Apparat is definitely my core business. Apart from it I still organize some parties and small festivals in several venues in Vienna. But 95% of my energy goes into Media Apparat. The idea of "network" means that we have a lot of partners we are working with on different projects. The funniest part about our job is the diversity of projects. From "straight forward" and "simple" motion graphics jobs to designing big conferences. Depending on the range of the project, we need different people to help us. There are projects, which make a collaboration with a laser production company necessary, or special software designers or even specialists for robotic arms. We have a lot of talented people in our core crew, but sometimes we can only realize the crazy projects with the help of our network which includes directors, programmers, performance artists, decoration artists, event agencies, 3d specialists, etc. etc. By the way, we are always looking for talented people out there ― so if you are ― let us know!
Blue Mustard Restaurant & Bar – 3D Mapping Projection from Media Apparat on Vimeo.
Lumen: Sounds really inspiring! Probably, you'll get a whole crowd of talented people after the release of this interview. So describe your creative process, from the moment the client contacts you to the actual show.
Andreas Göltl: It depends on the type of project we are working on, how the creative process works. But usually a client comes to us with a request, then we look for the right people within our team and our network to realize the project. The core creative team can consist of very different people ― sometimes we have technicians on board (regarding lasers, or robotics), sometimes graffiti artists, choreographers or directors. After some brainstorming sessions we define a basic concept with rough costs that we present to the client. When he likes our concept, the details are worked out by the experts in their fields.
Lumen: How do you evaluate feedback on your work and measure success? Have you already won any special awards or prizes? It's time to list the achievements you're proud of.
Andreas Göltl: As the projects are so diverse, it is pretty difficult to quantify success, on the other hand, you can measure your success if your clients are happy… The biggest success is when our clients return to us for the next project. This is far more important than any prizes or awards. Having said all that, in the past two years we have won quite a few. The Pioneers Festival 2016, for example, was awarded 2nd best conference at the global event awards, and the BWT event (a project we participated as A major partner) won the 1st prize in the category of best corporate event at the global event awards. Other prizes we won include: several Austrian Event Awards, the Annual Multimedia Award 2017, several Austrian Content Awards, and some more.
Award-Show at Pioneers Festival 2016 from Media Apparat on Vimeo.
Lumen: Is it easy to run a studio like yours within the Austrian market? Tell us about local challenges you meet during the process of projects implementation as artist and Media Apparat's CEO.
Andreas Göltl: I think one of the biggest challenges is to get really good people on board…. Austria is small, but interestingly we have a very lively "projection scene" here. In general, there are not so many big projection mapping jobs here compared to other countries ― like Germany or France.
The upside is the level of competition which is not as harsh as out there.
Lumen: What would you recommend to your good friend who decided to join the Austrian video mapping market? Some crucial beginner's tips from a big pro, please.
Andreas Göltl: As I mentioned already, the Austrian market is small and most people in this business know each other for quite some time. My advice would be to try to connect with the local «visual community» (if you are good, ask Media Apparat if we have a job for you). There are many events, which try to connect these artists ― VJs and specialists in projection mapping ― such as the Sound Frame Festival or the «Playground AV». Apart from the events, it is pretty easy to get in contact with the local community here. And as we all come from the world of VJing, I would say parties with electronic music is another option to get to know the local scene, as we all love to party once in a while.
Lumen: Media Apparat's team «loves to tell stories differently». Do you personally understand video mapping and art in general as storytelling?
Andreas Göltl: I think storytelling plays a major part in every project we do. Not only in 3d mapping but also in every show and every advertisement which is produced. You can be the best visual designer, if the story you are telling isn´t right for the audience, you will fail. Storytelling is a difficult art and we are learning from each project.
Media Apparat – Media Reel from Media Apparat on Vimeo.
Lumen: Which of your projects were destined to become your favorite or the most memorable ones?
Andreas Göltl: I think for me personally my favorite project will always be the Pioneers Festival. It was my first big project for Media Apparat and it is a project where our team can always experiment with the newest technologies.
Lumen: Open some of your plans for this year!
Andreas Göltl: This year we will try some new things with interactive installations and live data collected with Rfid tags, a robot on stage, electronic butterflies, and some new stage designs for example… but we are still in the creative phase, therefore we will probably come up with many more ideas!
Lumen: And for the dessert… Do you have your own recipe of how to integrate one's pure art into the commercial world in order to stay cool, free, open-minded AND prosper?
Andreas Göltl: In general, I don't see the opposition between the commercial world and being really creative. In my experience many corporate customers love to have as many creative ideas as possible implemented in their 'commercial' events and advertisement. You just have to sell it to them in the right way (plus you have to find the right clients). It is very important to see the client and you as being one creative team. The aim is to create something magnificent. If you include your customer in the process, even if it isn't always easy, the best results will occur in the end.
Don't forget to follow Lumen on Facebook   to get all the latest updates.