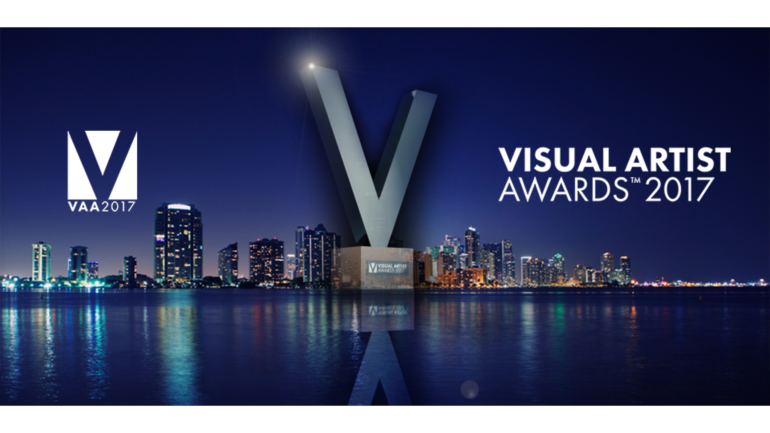 Showcasing the Best Mapped Pixels in the World!
Calling all visual artists and awesome creators working in projection mapping, motion graphics and augmented reality! The Visual Artist Awards has the mission of celebrating talent, innovation, and recognising leaders in these fields.
We had a great conversation with Daniel Davidson – founder of the VAA's and owner of The Temple House venue – to find out more about his experience, inspiration, and what he wishes to accomplish with this endeavour.
What inspired you to create the Visual Artist Awards Organization?
D.D:  Great question. I'm glad you asked! I own a venue in Miami Beach called The Temple House and we host amazing private events for celebrities (Shakira, Nikki Minaj, Jay Z, Ricky Martin and many others) and internationally recognized brands (Rolls Royce, Art Basel, Nike, BMW, Microsoft..etc.) In early 2016 we hosted a private event where the client incorporated projection mapping in the entire space. The client and his guests were amazed with the mapping. This great result, coupled with the fact that we started receiving a number of additional inquiries for similar events, led to the decision of installing a permanent projection mapping system at The Temple House. We developed a 14-projector, 360-degree fully mapped environment including the ceiling.
As we began to seek out incredible creative talent to build out content we wanted to know what was the equivalent of the Oscars®, the Emmys® or the Grammys® for motion graphics talent and projection mapping experts.  We couldn't find any one organization that acknowledged, recognized and awarded the incredible talent of this special group of artists, so we decided, since we are on the ground floor of what will be an explosive opportunity: creating an organization that can establish leadership in the field. It is for this reason that we created the Visual Artists Awards. Frankly, we didn't know how powerful the response would be.  The outpouring of interest has been amazing and in the first 4 weeks since we launched our website we've had registrants from 38 different countries.
What is your goal with the VAA's? What do you wish to accomplish?
D.D: Our mission with the VAA's is to provide a global platform for artists in the field of projection mapping, augmented reality, motion graphics and other disciplines that contribute to this art form.  My personal belief is that the field is explosive in its potential and, in the not too distant future, projection mapping will make its way into most every important event, concert, building lobby, high end residential property, lounge/bar, etc., etc., etc. With the new micro-projectors coming out coupled with dedicated mapping (AR computers such as Lightform) everybody will be able to take advantage of this affordable and amazing technology, from individuals to retail store owners.
By providing structure, and a formal setting for professional artists to be acknowledged and recognized for their contributions to the field, we will be able to raise the bar for the industry. As an example, there is a remarkably important distinction between saying "I'm an actor" and "I am actor, and I've won an Oscar®".  We want people to say "I am well versed in projection mapping, and I've won a Vizzie."  This will increase that person's value in the marketplace and help bring attention to the really great artists and technical pioneers.
By showcasing amazing talent and bringing attention to the industry, we also want to create alliances with big brands (projector manufacturers, server developers, software designers, consumer brands, luxury brands, and others) that can help telegraph the message about this important emerging tech, and have access to the most brilliant minds, leaders and pioneers in the field.
How do you choose the winners? What characteristics does a project need to have to win?
D.D: Every winner of each category will be awarded a Vizzie. The categories to be awarded in the ceremony are:
Best VJ award
Best 360 still image
Best mapping on vehicle (car/boat/plane/other)
Best dome mapping
Best experimental mapping
Best external architecture mapping
Best internal architecture mapping
Best drone content mapping
Best technical innovation
Best mapping by student (must be actively enrolled in school)
Our judges have a sensitivity to art and design, the capacity to be objective, and extensive experience in the industry. Our directive to them is to thoughtfully and impartially evaluate each entry based on the work-of-art and its…
Ability to move them emotionally
Uniqueness
Contribution to the industry
Innovation in creativity
Innovation in technical application
So, any particular reason why you chose Miami as location?
D.D: Miami is one of the most amazing cities in the world now. We are the center of art in the United States (as we are the hosts of Art Basel, the largest art fair in the U.S.).  Because of the proximity of The Temple House to Art Basel, we have so many opportunities to connect brilliant artists with the right people and brands.
Further, Miami is an international city that is growing rapidly and is at the cross-roads of the Americas.  It is the home of Ultra Music Festival, Winter Music Festival and countless other that are huge draws for projection mapping.  Because of our pioneering interest in the field, and what this means for Miami Beach, the VAA's received the support of the City of Miami Beach and the mayor. We really feel as though this is a tremendous marriage between a wonderful venue, incredible artists and an organization that can connect genius artists with amazing opportunities.
What is your vision for the future of these technologies?
D.D: Let me begin with a simple example. We have found that brides love to incorporate technology to change the environment of their event throughout the course of the event. One of our clients, a high net worth bride looked at covering all of the walls with roses. This would have amounted to a nearly $1.2 million expenditure in roses. However, she opted for projection mapping and we delivered not only walls a ceiling of virtual roses but we changed the environment over the course of the 6-hour event with stunning visuals that would have been impossible had it not been for projection mapping.
When one starts to think about the possible applications, I believe that the sky is the limit and this technology will be pervasive in virtually everything we do. From 25k lumen projectors to micro-projectors, from mapping entire city blocks to objects that sit on our desk. Virtually every single industry will somehow be impacted by this amazing technology – hospitality, education, medicine, transportation, communications, travel, and others.
Projector based augmented reality is coming in a big way and we are really proud to be at the forefront to help identify great talent and leadership in the field.
Any last thoughts?
D.D: I've seen some mind-blowing, amazing, super cool imagery developed by some of the most innovative, creative people from every corner of the globe. My message to our readers and followers is that, if you are serious artist interested in projection mapping, we can't wait to see your work! Anybody can submit their content free of charge to https://visualartistawards.com/vaa-register/
Thank you for your time!
The VAA2017 ceremony will be held at The Temple House in Miami between the last week of November and the end of December. Stay tuned!
We can barely contain our excitement. This gathering of worldwide talent is bound to be grand. Can't wait!
Via PMC