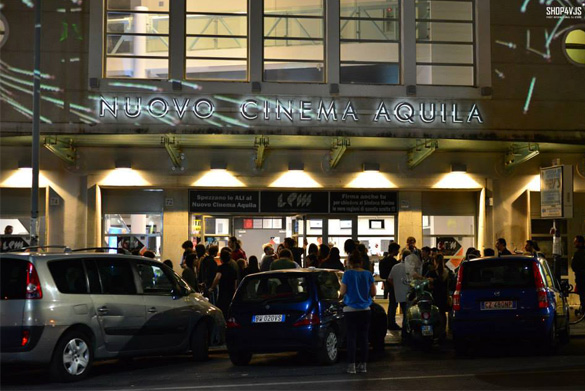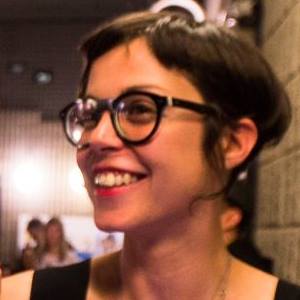 Charlotta Piccinini was the main curator of the LPM Stage 2 on the first floor of the Nuovo Cinema Aquila. This fragile girl defeated me with her round glasses  and    powerful ahold  of all processes on her Stage 2. For you to know, it's really uneasy to have a deal with different artist from all over the world and  to create an order      amoung them. But Charlotta made it all perfectly. So we decided to ask her a few questions.
Lumen: Hi, Charlotta! You look wonderful. You don't look tired at all.
Charlotta: Oh, really? Don't flatter me. I'm satisfied and tired as a honest human at the end ofworking day may be. But still if you have questions, I'll answer you with pleasure.
Lumen: Sounds good. We wouldn't take long. So as you are one of the organizators of LPM and curator of Stage 2, tell us how did the LPM evolute from the beginning till today?
Charlotta: It's interesting question, thank you. First of all, in the far-far 2003, when LPM just appears, the main aim was to unite people to provide knowledge and content. And for all years we were trying to improve everything we're working on. You may hear that people are satisfied with the place where the LPM 2015 is holding now, also they like the line-up and schedule and the events near the La Sapienza had blown the mind of thousands people. These are results based not only on this year efforts, but for all previous. We choose the concept of meeting because of its informal format and free air of possibilities those can be realized in such circumstances. And now we see that it's totaly victorious. Because number and level of artists attending the LPM 2015 is rising in each year. And we are really proud of this.
Lumen: As you're the curator of Stage 2, tell us the most fascinating performance of 2015 in your opinion?
Charlotta: There were a lot different performances. I have never expected that they will gather such crowd of viewers. But the most I liked the OFF.ELIA live a/v performance by Neuraska.

It consists of classic story, new technologies, and powerfull natural connection between all elements though the symbol of sault. It was a performance where you believe everything you see as a magic or a film. Still that's all because I believe in experiments, in natural sources of creativity. So I wish you see OFF.ELIA too.
Lumen: I think everybody will see it as you propose. And the last question: what about LPM 2016?
Charlotta: Oh, the next 3 years will be fulfilled with work. It's all because LPM get the grant from European Fund. We continue working with educating, information spreading and knowledge researches. So that's why we'll make more than 18 festivals and events in big and little cities in the whole Europe to spread our love to mapping and VJing. So get ready to meet us in your hometown, we would become the best neighbours you ever had!
Lumen: I have no doubts. We're ready to meet you with all sincerity!