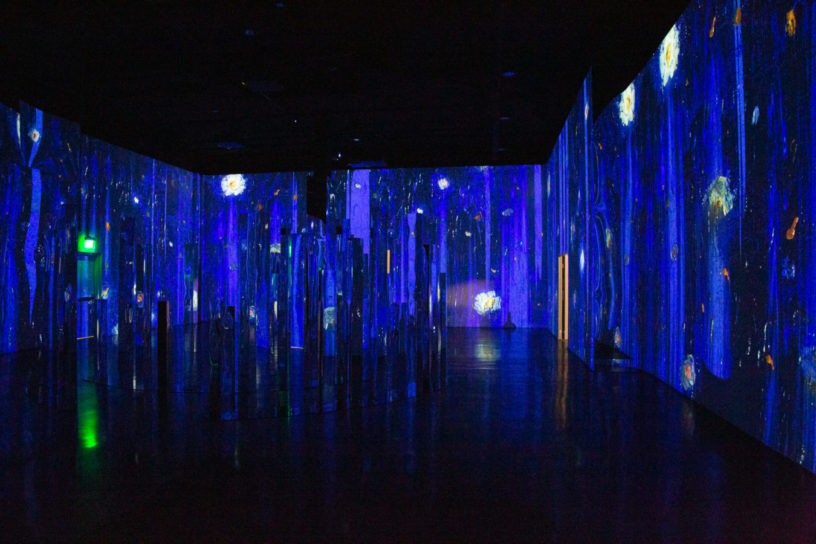 A larger-than-life display of the post-Impressionist's art is open now at Lighthouse Artspace Los Angeles.
Have you ever looked into the mirror and saw a work of art staring back at you? If so, you'll feel right at home at the new Immersive Van Gogh exhibition in Hollywood. The famed Dutch artist's paintings are being projected onto the walls and floors of Lighthouse Artspace Los Angeles, enveloping visitors in 55,000 square feet of color and history.
Stroll by the Café Terrace on the Place du Forum, Arles, at Night or below the Starry Night as the works of art are converted into 119,000 frames of video and transferred into 148 million pixels. Other works on display include Sunflowers, Self Portrait with Felt Hat, The Bedroom, and hundreds more – all offering visitors an exceptionally up-close-and-personal view of the post-Impressionist painter's mind and vision.
The exhibition was designed by creator and Italian film producer Massimiliano Siccardi, whose pioneering visions and credentials could take up this entire article. Suffice it to say, Siccardi has earned tremendous success in several arenas of the art world and has executed his current vision for Van Gogh's art immaculately. He implores visitors to "step inside the iconic works" as ambient music by Italian multimedia composer Luca Longobardi plays in the background.
With a host of Instagram-worthy custom design elements created by David Korins, the Emmy award-winning creative director and multidimensional experience curator, it's easy to see why the exhibit has sold more than 2.1 million tickets since its premiere on Saturday, July 31, making it the most popular attraction currently in North America.
Some of Korins' must-see installations include Neon Starry Night Ceiling, characterized by a rock vibe that pays homage to Amoeba Music (which used to hold this space) with neon lights; Absinthe Nook, which explores the Van Gogh's complicated relationship with "the green fairy" by offering guests the chance to step inside a fever dream experience; and Letters from Vincent, an artificial intelligence-powered program that gives you a custom response to your question in Van Gogh's tone based on thousands of letters he wrote to his brother Theo. If you're parched after all the painting perusing, pick up a refreshment at The Sunflower Bar as you're surrounded by thousands of flowers.
Lighthouse Immersive and Impact Museums, which are producing the highly-anticipated exhibition, scheduled Hollywood as the fifth stop after debuting it in Toronto, Chicago, San Francisco, and New York. It's scheduled for 16 more cities across North America, including Phoenix, Dallas, and Las Vegas, to name a few.
On sale now through January 2022, tickets to Immersive Van Gogh range from $30 for children, $40 for fixed-time admission, $50 for basic timed admission, and $100 for VIP flex access. Health and safety have been prioritized with limited admission, touchless ticket-taking, socially distanced circles projected onto the floors, and a mask mandate.
Check out vangoghla.com for tickets and scroll through the gallery to see more.