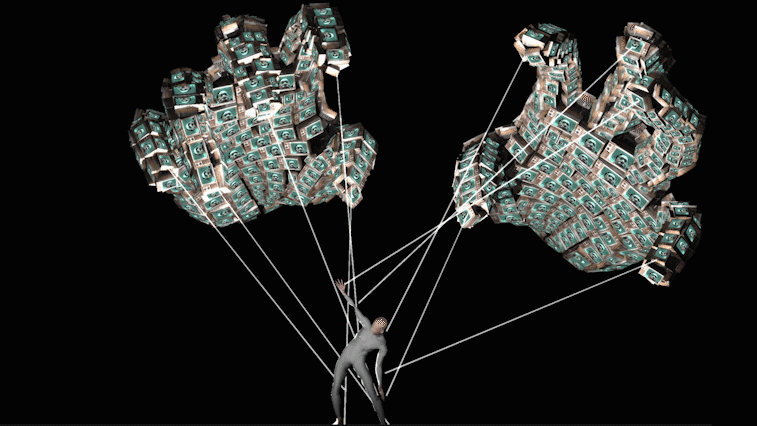 Enschede, The Netherlands — At SIGGRAPH 2015, Xsens will demonstrate how inertial motion capture is being applied to film, game and performance art projects. One of those projects, a demonstration of the Taiwanese visual sculpture piece The Inheritance, has been selected as the lead performance for SIGGRAPH's Real-Time Live!, giving attendees their first opportunity to see the project in the United States.
Created by Hsin-Chien Huang, The Inheritance uses Xsens MVN and real life dancers to manipulate 3D projections. As the dancers move, mocap data is applied to the graphics in real-time, creating a unique story that can immediately adapt to the creative impulses of the dancers and director.
Huang's performance will take place during Real-Time Live! from 5:30-7:15 p.m. on Tuesday, 11 August, West Hall B. Huang will also be a featured presenter in the Xsens SIGGRAPH booth (#337) at noon on Wednesday, 12 August 2015.
Xsens new MVN suit, and its compatibility with partner products, will be demonstrated throughout the week. Highlighted presentations include:
Virtual Reality – Xsens will be exploring how Xsens MVN works with VR applications through a live demo featuring the Unity game engine and the Oculus Rift.
Facial Capture – Live performances from Faceware and Dynamixyz show how patented facial motion capture technologies blend with Xsens MVN body tracking.
Character Mocap – Morph3D will demonstrate how Xsens MVN can be applied to 3D characters in the Unity game engine; while Autodesk will show how Xsens data feeds in Autodesk 3ds Max and Maya.
Booth demonstrations and partner presentations will take place at the Xsens Booth (#337) from 9:30 a.m. – 6:00 p.m., 11-13 August, in the main exhibition hall at SIGGRAPH. The full schedule is available now on the Xsens website.
Source: Xsens