"Look but do not touch" is an alien concept to the Seattle art trio Let's. Their large-scale interactive sculptures are essentially musical instruments that allow people to have multisensory experiences that blend touch, sound, vision, and vibration into one psychedelic whole. In their most recent interactive sculpture, We, now on at MadArt gallery in Seattle, 12 people can collaborate in altering the immersive sculpture through light bulbs, music, and mapped video projections. Like their other work, We operates in similar way to the psychedelic whimsy of Pee Wee's Playhouse puppeteer and artist Wayne White.
As Let's' Courtney Barnebey tells Creators, one of the main ideas with We was to create a community and shared experience. It's not just about visitors interacting with the sculpture, but with each other.
"When no one is touching the piece it lies quiet and unlit, so it only starts to be fully realized when people are interacting with it," says Barnebey. "So that's one of the main focuses with a lot of our pieces: create that community and a space for people to have a successful interaction with each other."
Let's, comprised of Andy Arkley, Courtney Barnebey, and Peter Lynch, have been working together for the last 15 years. Up until about five years ago, they had played music together in the band Library Science. Before that, Arkley had been in the Seattle band The Bran Flakes. Both bands, as Arkley says, used a lot of video elements and props on stage to create a multimedia experience. After breaking up in 2012, Arkley applied to create a show at Soil Gallery, where his wife was working at the time.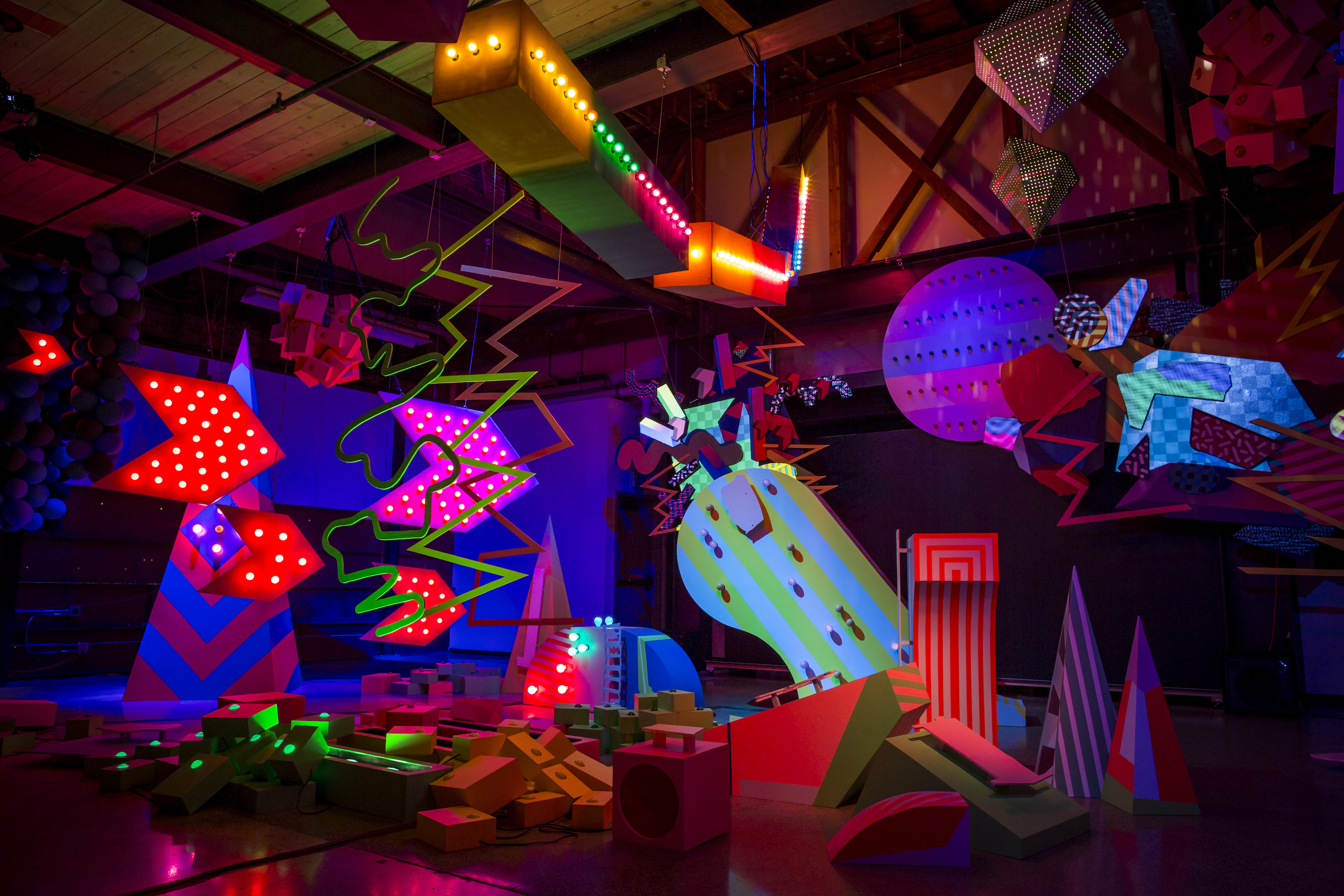 "I had this idea of doing this synchronized interactive music piece," says Arkley. "I basically asked Courtney and Peter if they wanted to work together again, this time it was in a different format which was called Let's. Since then we've done a lot of gallery shows, but most of these have included music since we're so familiar with it."
"The idea is to sort of simulate the experience or feeling of playing music as a band," he adds. "If there are 12 people playing, each person can control one element like a bass drum, a snare, a melody, or sound effect, and everyone can push buttons and start these elements at different times, and it's all synchronized, and the music is synchronized with the visuals and lights."
"The visuals try to express that joy, playfulness, excitement and sense of elation that happens when you play something," Lynch adds. "That's represented in the visuals as much as in the music. We start by looking at the space and how to expand into that space in a way that will most exploit the ways we like to play with light, and how light and paint interact, and how the music can animate that painted surface and produce different effects that are somehow related to the visual and audio experience."
Barnebey notes that there is a division of labor within Let's. Lynch, the most musically adept of the three, focuses on the music, while Arkley and Barnebey do most of the planning and building of sculptures.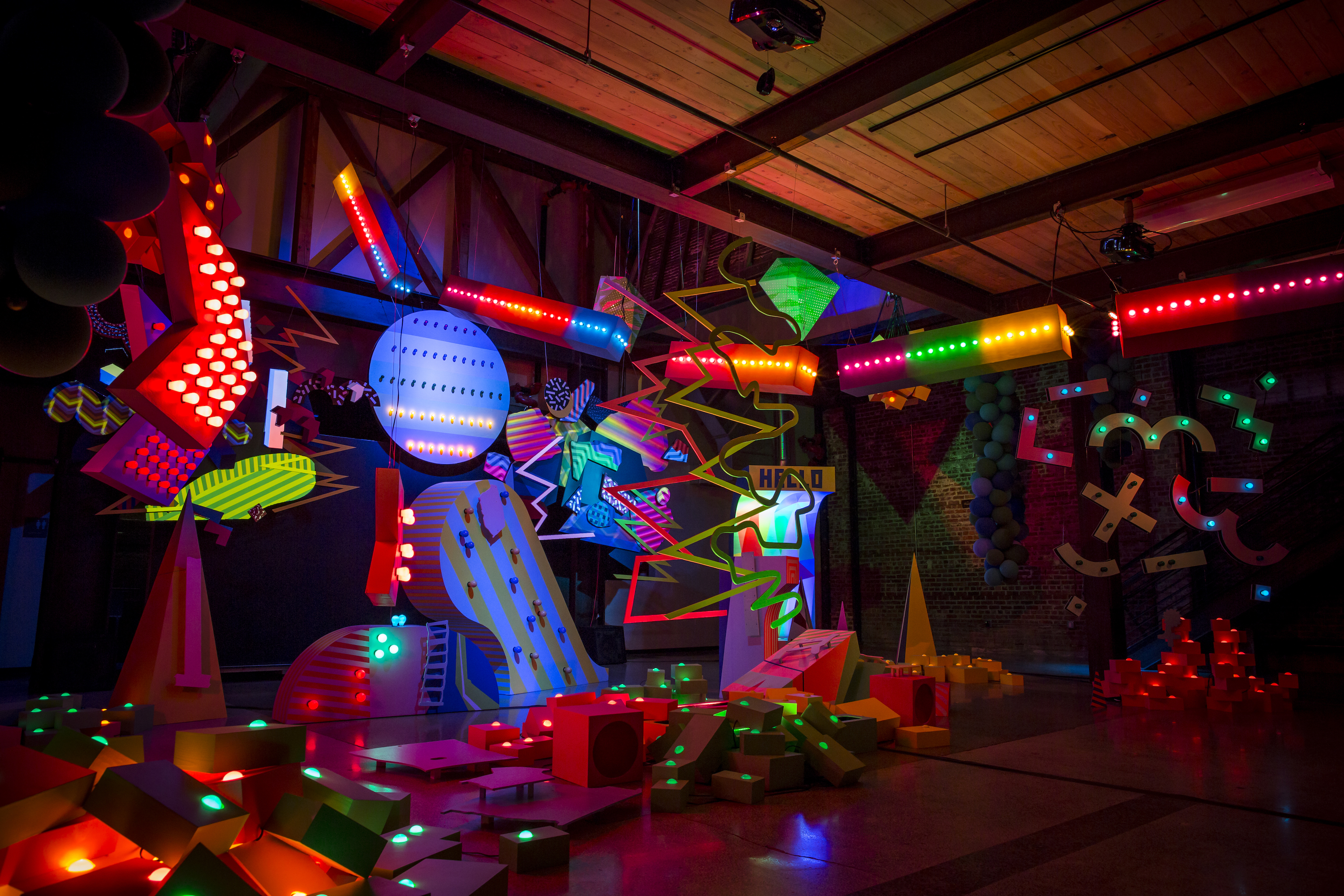 "We get a base down with a couple pieces, and we figure out how those can play off of each other," Barnebey explains. "Since everything is happening in tandem it allows for a more unified piece, and that happens with the music and sculptural elements, and that is a way for us to bring our individual visions together as a group."
To make the music, Lynch records in Ableton Live with a combination of live instruments, synthesizers, and sampling, manipulating all of these sounds in various ways. Lynch then runs Ableton in the background, with each sample routed to a dedicated button on the sculpture. Each button, as Lynch explains, is essentially a sample trigger, which lines the triggered element up on the 8th or 16th note, synchronizing (or quantizing) the sample to a silent metronome.
"The sample is triggered on the next 8th note," Lynch says. "And it's happening so fast they don't recognize it."
Lynch sets up Ableton such that it sends MIDI notes to the VJ software Resolume, which controls the projected video elements. Ableton also sends MIDI notes to DMX, a piece of software that triggers the sculptures light bulbs.
"Part of what we're trying to do is make it so that people are successful when they interact with installations, and that's the reason why we quantize it to the 8th note," Barnebey says. "So that someone without any musical ability can come forward and have confidence that they're in time with everyone else and they're going to be successful when they're interacting… As people push the buttons, they push them in different combinations to that 8th note, and it creates an extraordinary amount of permutations of the music."
"For us as artists we're enjoying exploring how people learn and watching their minds activate when they're playing with our sculptures, and trying to understand sort of where we want them to go and how to get there," adds Lynch. "It's experiential, synaesthetic and psychedelic."
Click here to see more work by Let's.
Via Creators