Shortly after wrapping up his luminous Magic Forest installation, new media artist Jiayu Liu wasted no time creating the commissioned work Glowworm Garden, exhibited last year at Shanghai Ruihong Tiandi Hall of Moon. This past September, Liu just as quickly began work on two new projects—Iceland, for the Art Sanya Festival, and Ocean Wave, which ran at the 10th Kinetica Art Fair in London in February. Iceland, which is currently installed in Sanya, a tropical Chinese city located in the southernmost part of Hainan Island, simulates the glowing blue color of icebergs by augmenting a garden's existing surface area of rocks, plants and water. Visible at nighttime during the festival's run, visitors were treated to a miniature fusion of two vastly different landscapes and climates.
Liu says that there were several inspirations that informed the installation. While hanging out at venues during the previous year's Art Sanya Festival, Liu came across a garden with a river, plants and rocks. For him, the autumn scene resembled a tropical landscape in miniature. Wanting a counterpoint, he began thinking of the characteristics of arctic regions. Specifically, Liu was imagining the geological formations of Iceland, as well as the floating ice that surrounds the island.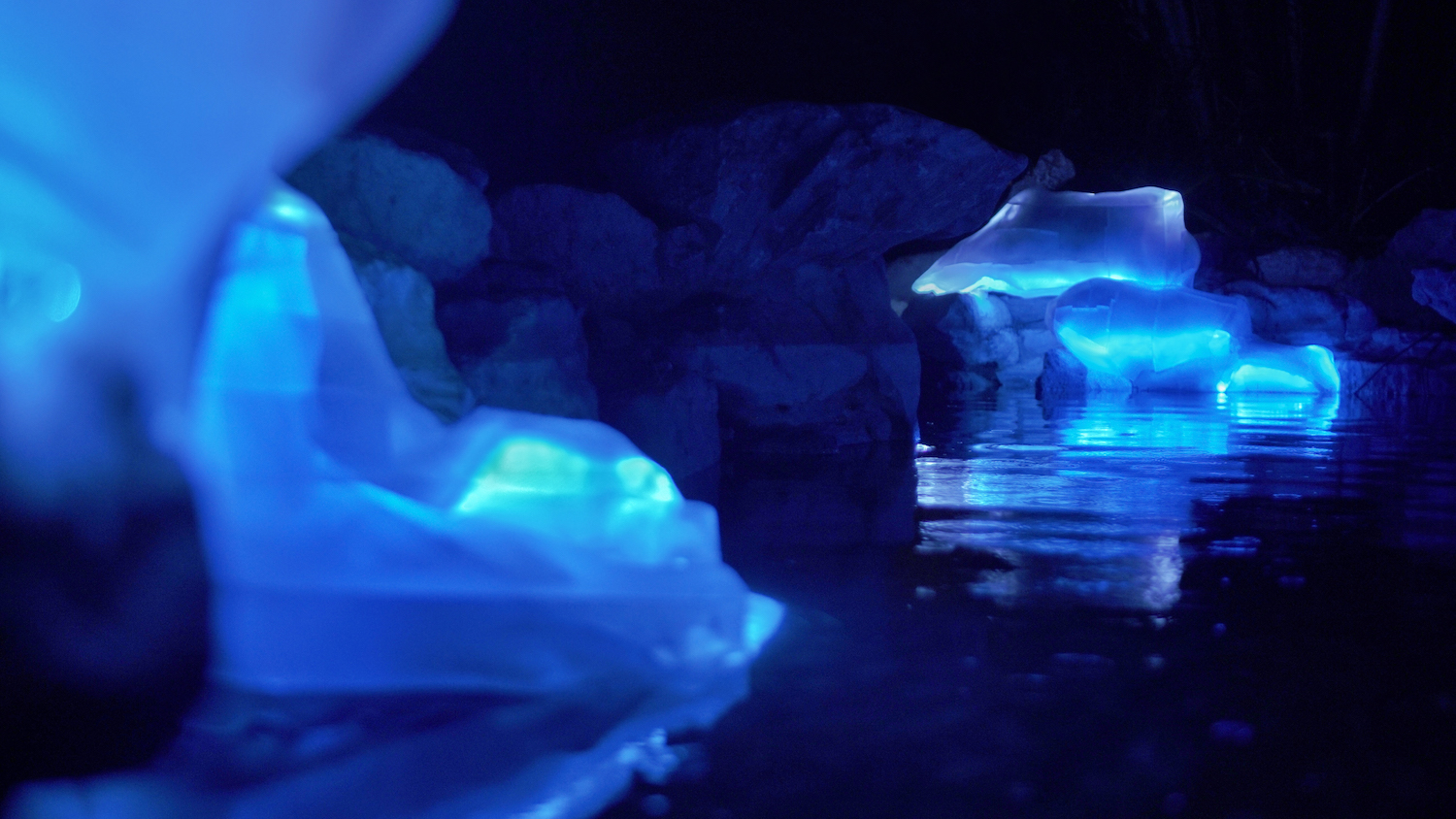 "The installations were assembled on the surface of the stone," Liu explains. "As a result when the night falls, the blue halo slowly creates the visual experience space of the iceberg."
"I thought it would be interesting to combine another landscape which was extremely opposite and different from here in geology, weather and scenery," says Liu. "So, I came up with this idea of a collage [of the two]."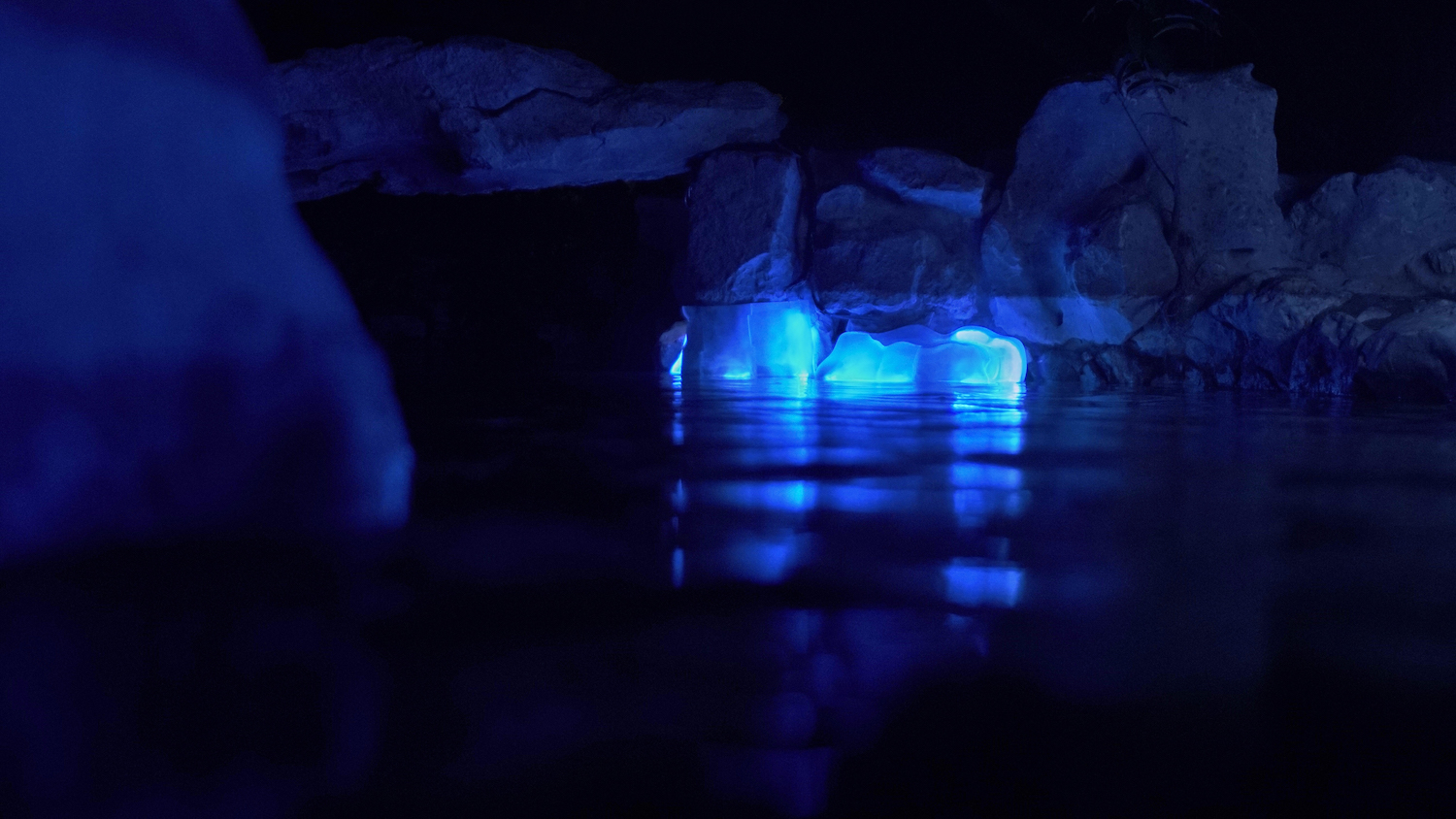 As can be seen in a video of the design and build process, Liu 3D scanned the garden's rocks. While she had worked with 3D scanners before, this was his first time using one in an exterior environment. To do this properly, she collaborated with Shenzhen Lexcent Technology Co. Ltd, who supplied the EinScan-Pro software and hardware. The 3D scanner itself is a trip, looking like a combination between a stapler and a piece of technology out of Star Trek, casting flickering light upon the rocks.
After scanning select rocks, Liu's team created 3D models that served as the blueprint in sculpting semi-transparent PC blocks with a matte surface via CNC molding. Once the molds were finished, Liu fitted LED strips corresponding to specific perspectives of the iceberg, each angled at a different degree in order to generate varieties of light reflections on the surface of the rocks.
While the installation alters the rocks' appearance, Liu doesn't call it an augmented reality because everything is physical. The effect produced by the blue LED lights and molds, however, create a trompe l'oeil effect that makes the luminescent installation seem almost virtual from afar, though its physical dimensions are more pronounced closer up.
 "I wanted to present a contrast between the objects and their original environments," says Liu. "The final result being a new space which challenges one's perception of the environment… I hope viewers think of how technologies could extend and grow from nature."
Click here to see more of Jiayu Liu's work.
Source Creators
Follow our FB page Lumen