Image courtesy of the artist
The motion of a cat's tail was the inspiration behind this interactive light installation, Flora, by artist Philipp Artus. The piece sees a series of complex, intricate shapes "grow" like plants in a series of projections. It can be controlled by members of the public using a touchpad and the growth patterns are generated using an algorithm based on the laws of physics, creating an aesthetic defined by waves and lines coalescing.
"The animation in Flora is generated by overlapping sine waves that travel through a string of lines," Artus explains to The Creators Project. "This wave principle often appears in nature when energy is transmitted through a medium like water, air or simply a rope. It can also be observed in the locomotion of animals and human-beings, in which kinetic energy is transmitted successively through joints. The algorithm is based on the discovery that a simple system of rotating lines can create endless variations of abstract shapes—ranging from curved harmonious lines to edgy and chaotic patterns. The resulting aesthetics combine computational accuracy with an organic playfulness, and tend to trigger diverse associations in the mind of the viewer."
Image courtesy of the artist
It was while musing over the movement of his pet's tale that Artus says he got the idea that a chain of rotating joints can create mesmerizing forms along with elegant patterns and motion. He began to study character animation, Isaac Newton's laws of motion, and took inspiration from artists whose work explores the intersection of science and nature, like Paul Klee, Hiroshi Sugimoto, Karl Blossfeldt, and M.C. Escher.
The piece has had numerous iterations, starting out as an animation before becoming a light projection and then interactive light art. Further developments include using it in an audiovisual capacity in sync with live music. The piece will be making an appearance at the Kinetica Art Fair in London next week shown on a huge wall where the public can interact with it.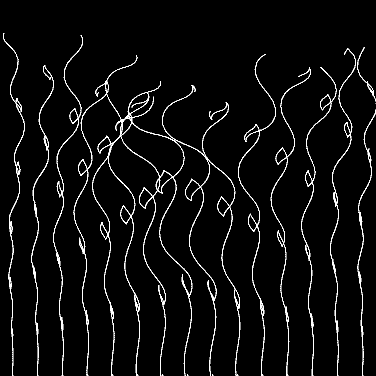 "It's fascinating to observe how each individual has a unique approach to control these shapes," notes Artus. "Some are very tentative, others are reckless and wild, and others again are very analytical and try to understand each parameter. Furthermore the aesthetic preference of the shapes vary: some prefer curved harmonic shapes while others prefer edgy abstract patterns. Flora is like a visual instrument that mirrors the personality of the player. It's an artwork that generates creativity."
FLORA light installation from Philipp Artus on Vimeo.
To learn more about Philipp Artus' work, visit his website here. The Kinetica Art Fair will run February 17 – 19, 2017 at Ugly Duck, 47-49 Tanner Street Bermondsey, SE1 3PL.
Source Creators
Follow our FB page Lumen